Inspiring School Spirit Items
You might have spirit, but that doesn't mean that some school spirit items wouldn't help bolster a little pride. Things that declare your school spirit that can be passed out to the student body help add to the pride and love of everyone feels for their school.
Chant Your Way to Victory
Have you been wondering how to get your school more involved in chanting at games? Try passing out small pom pons and megaphones. You'll find that with the extra "props", people are more likely to wave, cheer and shout. You'll also find that with a megaphone in hand, people are more likely to chant along with you. It's the power of being heard that turns a sluggish crowd into chanting aficionados.
Give Alumni Honorary Uniform
One way of inspiring pride in students is to look back at former successful alumni during major games. Choose one former alumni who has gone on to be a successful business person or honor someone who volunteers at your school tirelessly. You can honor them with an honorary uniform and give them a school spirit award, thanking them for all they do to promote and help the school.
We're Number One
Can you imagine being in a big stadium, looking up at bleachers with the entire school holding "Number 1" fingers in school colors? If your booster club is active, you can pass them out for free before a game against your biggest rival. Parents could also sell them at the entrance to raise funds for the booster club. Regardless, these are sure to inspire school spirit!
Best Fan Ever
If you want to inspire truly outrageous cheering in the stands, hold a competition. Awarding someone the "best fan" award at the end of a season is a way to recognize someone who not only came out to support the team, but perhaps helped out in other ways. Don't be shy about asking for a moment during half time to recognize people if it's warranted.
Spirit All Day Long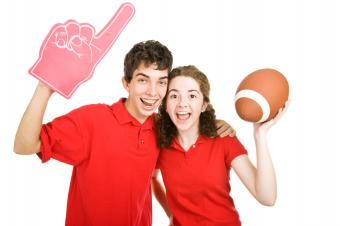 Inspiring great fans to cheer through thick and thin takes dedication and teamwork throughout the year. Encouraging fans to cheer on your team using school spirit items decorated with your school colors, school mascot or something else is one way to get the fans going. Don't forget to reword them for being the ultimate fan, and remember that encouraging spirit is a "on and off" the field job.