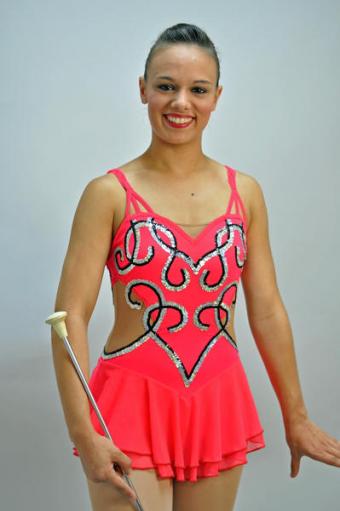 You can add some extra flair to your baton twirling routine by selecting a uniform that makes a statement. In marching bands, the bandleader is typically responsible for uniform selection and design. However, if you are part of a twirling team or participate at competitions as a single twirler or with a partner, then you will need to choose your own outfit.
Choosing a Uniform to Accent Your Routines
The cut of the suit makes a difference in some gymnastic moves and could potentially interfere with a complicated baton movement and twirl if not planned properly. Your uniform may have a skirt at the bottom which will complement any body rotations and leaps, catching the eye of the viewers and creating the desired mood for that portion of your routine. Other things to consider include:
Colors that best represent your school or team
Patterns or arrangements of color that allow you to stand out from your competitors
Uniforms that are appropriate for both performances and competitions, or the option to have different uniforms for each purpose
Styles of Baton Twirling Uniforms
The style you choose should complement the specifics of your routine, such as the moves you will be making and the music you have chosen. Consider the age, shape and size of each of the twirlers on your squad. Uniforms come in everything from solid patterns to geometric shapes. The last thing you want is a style that is unflattering to some body types. While there are many styles available, the following are both eye-catching and functional.
Boy Cut Leos
Uniform suppliers like Algy Team offer more modern looks for today's baton twirlers. A boy cut leo is similar to a leotard but with boy shorts. From this basic structure of uniform, the look can vary widely. The boy cut leo can have sleeves or be sleeveless, feature a skirt, and have fringe or no fringe. In addition, the boy cut leo can be customized with lettering or cut so that skin shows across the shoulders or back.
Tunic Dress
The tunic dress offers a more traditional majorette look for baton twirlers. This is a simple, one piece dress with a short skirt. Similar to the boy cut leo, the tunic dress can be dressed up or down by adding features like a fringe on the skirt and can be sleeveless or have long sleeves. Online stores like show-off inc. offer interesting takes on the tunic dress, featuring one-piece uniforms with the sides cut out or embellishments along the hem of the skirt.
Two Pieces
Traditionally baton twirling outfits are one piece, but if you are looking for an interesting performance uniform consider a skirt and shell top. These can be customized in contrasting colors or used as mix and match pieces with different skirts for different occasions. Kenerly Kreations carries some gorgeous custom two-piece uniforms for baton twirlers.
Don't Forget the Shoes
Be sure to select attractive shoes that match your outfit and that are comfortable and provide good arch support. Once you've chosen the perfect uniform, don't forget to finish it off with accessories like special instep dance baton shoes from suppliers like World Twirling and Instep Shoes.
Uniform Customization
Chances are at least some of the uniform will need to be customized, even if it is just a logo for the front. Discuss your desired design with the costume maker. After you have fully described the outfit to him, have him put the design to paper in color and send it to you by mail or e-mail for confirmation. Due to the price of uniforms, you can't afford to make a mistake as errors in this part of the process can cost several hundred dollars to correct.
Make sure that they have all your measurements and that the company you order from can make alterations if there are changes needed once you try your outfit on. Be sure and leave time to allow for alterations and shipping before you are scheduled to compete. With just a little preparation, you'll have a uniform you and your team can be proud of.